Asociate Professor Akio Tani,
New Lab. Group of Plant Environmental Microbiology









March 24, 2016   
Successfully finished.





August 2-5, 2014
The 3rd IMS was successfully finished.!

Group of Plant-Microbe Interactions (PI Prof. N. Suzuki)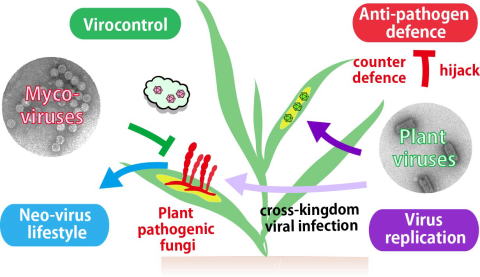 Ascertaining the interplay between plants and beneficial and harmful viruses

Plant growth is influenced by interactions between plants and various microorganisms. Viruses, bacteria and fungi pathogenic are threats to plants. By contrast, some viruses infect phytopathogenic fungi and reduce their virulence, thereby having potential as biocontrol agents. This group studies various bipartite (plant - virus) or tripartite (plant - pathogenic fungus - mycovirus) interplays with specific examination of the multifaceted nature of microbes. Our ultimate goal is to contribute to the promotion of healthy growth of crops and other plants.


---
Group of Plant-Microbe Interactions
Institute of Plant Science and Resources, Okayama University
2-20-1 Chuo, Kurashiki, Okayama 710-0046, Japan 
TEL +81-86-434-1230 (N.Suzuki), +81-86-434-1232 (Kondo, Hyodo, Maruyama), +81-86-434-1228 (A.Tani )