Fe-deficiency stress
@Iron (Fe) is an essential element for plant growth and deficiency of Fe causes chlorosis in young leaves. Although Fe is abundant in soil, its availability is very low. This is especially a problem limiting crop productivity in calcareous alkaline soils, which comprise 30% of arable soil in the world. However, some plants have developed strategies for efficient acquisition of Fe. Some gramineous plants such as barley and wheat have a distinct strategy (Strategy II) for iron (Fe) acquisition, which is different from non-grass species. Iron acquisition by gramineous plants includes 1) biosynthesis of phytosiderophores (mugineic acids) inside the roots; 2) secretion of phytosiderophores to the rhizosphere; 3) solubilization of insoluble iron in soils by chelation of phytosiderophores, and 4) uptake of the ferric-phytosiderophore complex by the roots. We have identified a few novel phytosiderophores and elucidated the biosynthetic pathway of various phytosiderophores in different plant species. We have also identified a transporter for the ferric-phytosiderophore complex in barley. It is greatly up-regulated by iron-deficiency and localized at the root epidermal cells.
Furthermore, we identified a transporter, OsFRDL1, which is required for efficient translocation of iron from the roots to shoots in rice. This is a citrate transporter and localized at the pericycle cells. Knockout of this gene result in Fe precipitation in the roots and chlorosis in the leaves.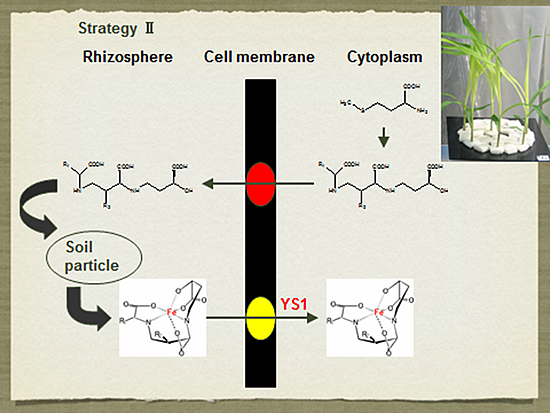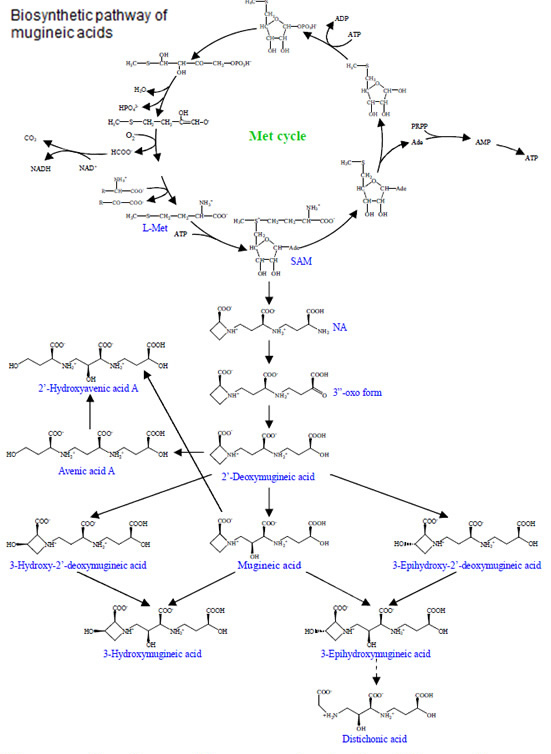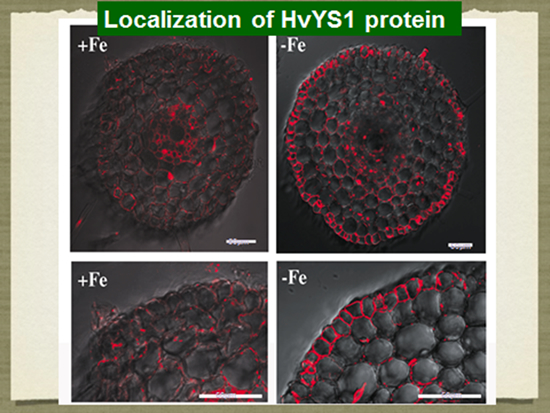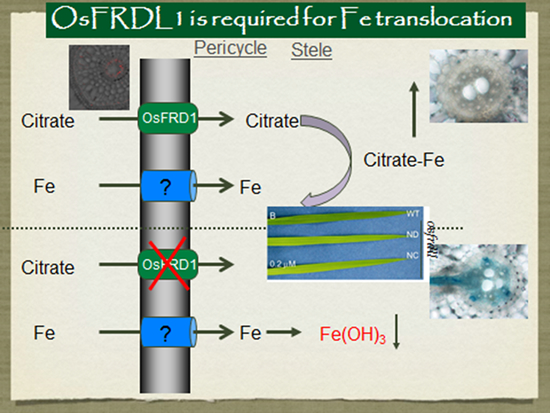 Key publications
Ma, J. F. and Nomoto, K. 1993. Two related biosynthetic pathways for mugineic acids in gramineous plants. Plant Physiol. 102: 373-378.
Ma, J. F. and Nomoto, K. 1994. Incorporation of label from 13C, 2H, 15N-labeled methionine molecules during the biosynthesis of 2'-deoxymugineic acid in roots of wheat. Plant Physiol. 105: 607-610.
Ma, J. F., Shinada, T., Matsuda, C. and Nomoto, K. 1995. Biosynthesis of phytosiderophores, mugineic acids, associated with methionine cycling. J. Biol. Chem. 270: 16549-16554.
Ma, J. F., Taketa, S., Chang, Y. C., Iwashita, T., Matsumoto, H., Takeda, K. and Nomoto, K. 1999. Genes controlling hydroxylations of phytosiderophores are located in different chromosomes in barley (Hordeum vulgare L.). Planta 207: 590-596.
Murata, Y., Ma, J. F., Yamaji, N., Ueno, D., Nomoto, K. And Iwashita, T. 2006. A specific transporter for iron(III)-phytosiderophore in barley roots. Plant J. 46: 563-572.
Ueno, D., Rombola, A., Iwashita, T., Nomoto, K. and Ma, J. F. 2007. :Identification of two novel phytosiderophores secreted from perennial grasses. New Phytol. 174:304-310.
Yokosho, K., Yamaji, N., Ueno, D, Mitani, N. and Ma, J. F. 2009. OsFRDL1 is a citrate transporter required for efficient translocation of iron in rice. Plant Physiol. 149: 297-305.